In Wagri 2019,China (Guangzhou)Intelligent Agriculture Technology Application Forum was successfully held onsite. It gain the great support from National Center for InternationalCollaboration Research on Precision Agriculture Aviation Pesticides SprayingTechnology, Guangdong Modern Agricultural Equipment Institute. We invitedProfessor Lan Yubin to make a speech about the new development of theintelligent agriculture development. Besides, some famous companies, likeHuawei, Tencent Cloud, China Telecom, China Mobile, Country Garden AgriculturalHoldings, Guangzhou Jiankun, Guangzhou Jifei, Guangzhou Megaclimate, BeijingMaifei Technology, Shenzhen Shinong, Israel Netafim, Hao Gen Dao (Beijing)Agriculture, Guangxi Jie Jiarun and other enterprises also gave great supportand wonderful speeches.
PreviousDistinguished Guests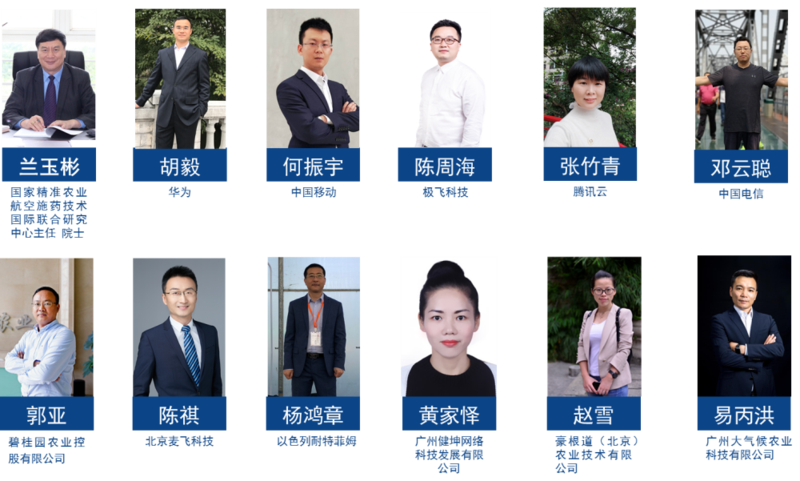 2020 Event Theme
China(Guangzhou) Intelligent Agriculture & Breeding Technology Application Forum
Participants:
Provincial, municipal and local government departments in charge ofagriculture, relevant research institutes, heads of institutions of higherlearning, experts and scholars in the field of smart agriculture;
Representatives of agricultural enterprises, heads of agriculturalenterprises, heads of agricultural cooperatives, heads of agriculturaltechnology promotion centers, heads of agricultural parks, urban farmers,farming and cultivation (breeding) bases;
Industry association leaders;
Representatives from the news media, agricultural development companies andother industries.
Concurrent Conferences:

2020 China HillAgriculture Machinery Development Forum
2020 South ChinaLivestock Breeding Conference
2020 ChinaAquaculture Innovation Technology Forum
2020 Second GlobalPlanting Technology Innovation Forum
Organizing Committee:
Guangzhou OSUN ExhibitionConsulting Co.,Ltd
Room 602, the Second Building,Guangzhou Avenue South NO.778,Guangzhou City
Josh Choi
mail:Josh.choi@10000show.cn
Fiona Xie
fiona.xie@osun2008.com